Description
Unique to the Philadelphia landscape, this distinctive dance space was originally a horse stable and automobile garage. Renovated in December 2002, the Performance Garage was transformed into a versatile dance studio, available 7 days a week for rent.
Located at 1515 Brandywine Street (between Spring Garden and Green Streets) in Philadelphia, PA, the Performance Garage provides two first floor studio spaces with high ceilings, large windows, and solid mahogany carriage-house doors. The doors open for street access, making the loading of props and costumes easy.
These studios are perfect for dance and theatrical rehearsals, productions, workshops, and auditions.
Studio A: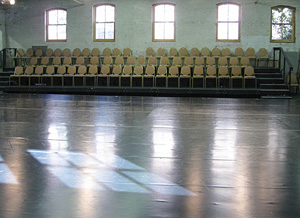 studio A
This studio is an ideal setting for rehearsals, dance workshops, showings of new work, play readings, and fully-produced performances.

It has a sprung Marley floor (38' wide by 30' deep) which is designed for bare feet and ballet slippers, and has three rows of risers that seat eighty-six people.

Amenities include a Kimball Vienna Series Grand Piano, high mirrors, three eight foot ballet barres, and full surround-sound equipment including CD player, DVD player, VCR, tape deck, and large screen TV. The Performance Garage has a full performance lighting package and sound system, and a cyclorama (white backdrop).

There is also an adjacent changing room with two bathrooms and showers.

Studio B:


studio B

This studio is ideal for dance and performance rehearsals.

It has a sprung Marley floor (41' wide by 31' deep) designed for bare feet and ballet slippers (certain sneakers allowed) and is column free with mirrors and wall mounted double height ballet barres.

Amenities include two bathrooms, one with shower, a hospitality area with a small kitchen (including dishwasher and refrigerator)and a sound system with CD, DVD, iPod and tape player.

See our rental page for more information. For information regarding Production Rental packages please contact our Rental Manager, Judy Williams, at (215) 569-4060 or email: rentals@ruddydance.org.